I've learned when you buy a home the decorating process can take a long time. Here's where we're at so far
Click "read more" for the pictures of our house evolving....
How the home was decorated by the pervious owners:
In the process. We put up the chair rail. Originally I wanted to do wainscoting but the textured walls just won't let that happen unless I want to cover them all up with MDF. Also the painted curtains were tabbed and unlined so the sun shining through made them look splotchy.
evolving... Curtain tabs are gone, a few pillows added, craigslist find coffee table, picture shelf added.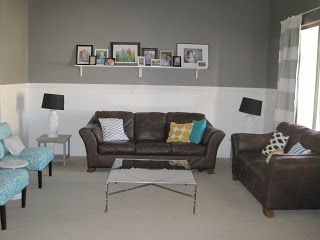 What it looks like now. It's in need of a rug, but I don't want to spend too much, anyone have any ideas of what would look good? I've been really wanting to stencil a rug to put in here. Also, Im dying to get new lamps, i've never been happy with these ones. Im thinking some pretty mercury glass lamps. The side tables painted light yellow...do you think its too much color?