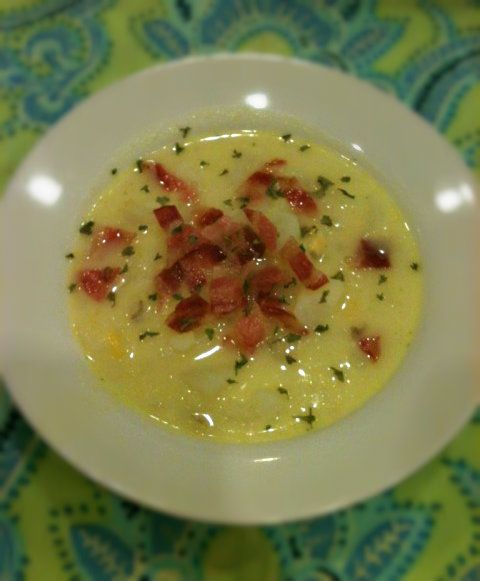 I've tried a few potatoes soup recipes since my married dinner making days began. This one I kind of just put together and it turned out be probably my favorite batch I've made!
4 cups chicken broth
1 large onion, chopped or 1 tablespoon onion powder
4 cloves garlic, minced

4 large russet

potatoes,

peeled and cut in 1-inch cubes

1/2 pint half and half
1/2 stick of unsalted butter
1/2 cup shredded medium cheddar cheese
about 8 slices of bacon
Dried parsley
Salt and pepper to taste
Peel and cube potatoes and boil for 10 mins. Drain. Mash to your liking, I mashed about 1/2 the potatoes. Let sit in strainer.
cook bacon until crispy, chop.
Pour in 4 cups chicken broth into large pot over medium heat. Add butter, cheese, half and half, onion and garlic. Stir until butter and cheese are melted. Add in potatoes. In individual bowls sprinkle parsley and bacon pieces.
I actually bought bread bowls for this soup to go in but I forgot about them until the next day, but the soup was really good in the bread bowl!